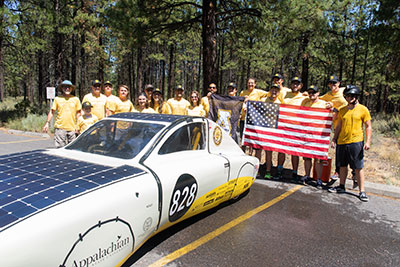 Team Sunergy is comprised of students from various disciplines, spread across Appalachian State University's very diverse campus, working together for one common goal: to research and develop solar-powered race cars. Combining racing and sustainability seems like a perfect fit for Team Sunergy to invest their time and effort into; due to their unique location in the heartland of racing and their support of Appalachian State's initiatives to become a leader in renewable and sustainable energy.
In their first year of competition in 2016, the team faced unprecedented success. In the Formula Sun Grand Prix, a lap race, the team finished third place with their car Apperion. They also competed in the American Solar Challenge, which took place over 1,975 miles of highway spanning from Brecksville, Ohio to Hot Springs, South Dakota and finished in sixth place. The latest race, July 3-9, 2017, they placed second in Austin, Texas at the Formula Sun Grand Prix!
Team Sunergy is currently in the design process of our next generation solar vehicle. This car will be designed with the everyday driver in mind and will feature many of the amenities not normally found in solar vehicle racing like headlights, windshield wipers, and trunk space. The team works on a two-year build cycle and plans to have the new car ready to race in The American Solar Challenge in the summer of 2018. The car will be designed, built, and tested by students and will provide many opportunities for hands-on learning and professional development.
To learn more, visit the team's website at www.appstatesvt.com
To donate, please visit www.alumni.appstate.edu/solarvehicleteam