ASU-Sustainable Energy Society (ASUSES)
President: TBA
Advisor: Lee Ball
Meeting Location and Time: Room 167 Katherine Harper Hall, TBA
Description/Purpose: Students in ASUSES are engaged in a variety of outreach and service activities, including video screenings, the annual Boone Solar Christmas Tree Lighting event, and many other activities. For students interested in the range of sustainalbe energy options.
American Institute of Architects - Student (AIAS)
President: TBA
Advisor: Jason Miller
Meeting Location and Time: Room 207 Katherine Harper Hall, TBA
Description/Purpose: To provide students in the Architectural Technology and Design concentration and other interested students opportunities for service and professional development activities within the field of architecture and related design-build activities.
Habitat for Humanity
President: Kayla McDougle, mcdouglekb@appstate.edu
Vice President: Kelse Baker
Advisor: Susan Doll
Meeting Location and Time: Room 167 Katherine Harper Hall, Every Other Monday @ 6pm
Description/Purpose: The Appalachian State campus chapter partners with the Watauga Habitat for Humanity affiliate to support the international organization through fundraising activities and community service. The club actively works to achieve the goal of Habitat for Humanity which is to bring people together to build homes, communities and hope.
Professional Construction Estimators of America (PCEA)
President: Justin Klutz, kluttzjm@appstate.edu
Vice President: Ben Young, youngbd@appstate.edu
Advisor: John Clark
Meeting Location and Time: TBA
Description/Purpose: Appalachian State University's Student Chapter of the Professional Construction Estimators of America (PCEA) is the first Student Chapter in the organizations history. It was chartered on December 3. 2013. The club brings a commercial focus to the Building Science Program's student clubs complementing the Student Builders Association. The PCEA mission is to provide educational speakers, field trip opportunities, OSHA 10 Safety Training, and of course fellowship to its members.
Student Builders Association
President: Tate Wynne, wynnect@appstate.edu
Vice President: Joe Low, lowjl@appstate.edu
Secretary: Holden Ingold, ingoldha@appstate.edu
Treasurer: Robert Griggs, griggsrs@appstate.edu
Advisor: John Clark
Meeting Location and Time: Room 17 KHH, TBA
Description/Purpose: The Student Builders Association is an organization with an emphasis on education and networking in the construction industry. The club welcomes students from every major and background, especially those from the Department of Sustainability and the Built Environment. Club meetings are held weekly and host representatives from the industry to talk about their career, company, and experiences, as well as providing a chance to network together for internships and job opportunities.
There are annual club dues and food and refreshments are also provided at every meeting.
Solar Vehicle Team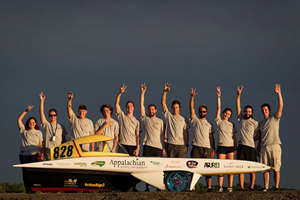 Team Sunergy is comprised of students from various disciplines, spread across Appalachian State University's very diverse campus, working together for one common goal: to research and develop solar-powered race cars. Combining racing and sustainability seems like a perfect fit for Team Sunergy to invest their time and effort into; due to their unique location in the heartland of racing and their support of Appalachian State's initiatives to become a leader in renewable and sustainable energy.
In their first year of competition in 2016, the team faced unprecedented success. In the Formula Sun Grand Prix, a lap race, the team finished third place with their car Apperion. They also competed in the American Solar Challenge, which took place over 1,975 miles of highway spanning from Brecksville, Ohio to Hot Springs, South Dakota and finished in sixth place.
Team Sunergy is currently in the design process of our next generation solar vehicle. This car will be designed with the everyday driver in mind and will feature many of the amenities not normally found in solar vehicle racing like headlights, windshield wipers, and trunk space. The team works on a two-year build cycle and plans to have the new car ready to race in The American Solar Challenge in the summer of 2018. The car will be designed, built, and tested by students and will provide many opportunities for hands-on learning and professional development.
To learn more, visit the team's website at www.appstatesvt.com To donate, please visit www.alumni.appstate.edu/solarvehicleteam