B. Summerville and C. Van Dyke | 18 Jan 2019
In the summer of 2018, Cameron Van Dyke, Assistant Professor in the Applied Design Department, reached out to Brent Summerville, Practitioner-in-Residence in the Sustainable Technology program, with a desire to power his family's new 220 sq/ft home with solar power. The two collaborated on the project during the Fall 2018 semester along with the students enrolled in Summerville's Photovoltaics II course. The team decided on a mobile, trailer-mounted solar-electric system that would be built on campus and transported to the site to power the home upon completion. The mobile nature of the solution will allow Cameron to also utilize the PV trailer at other sites, such as events at Turtle Island Preserve.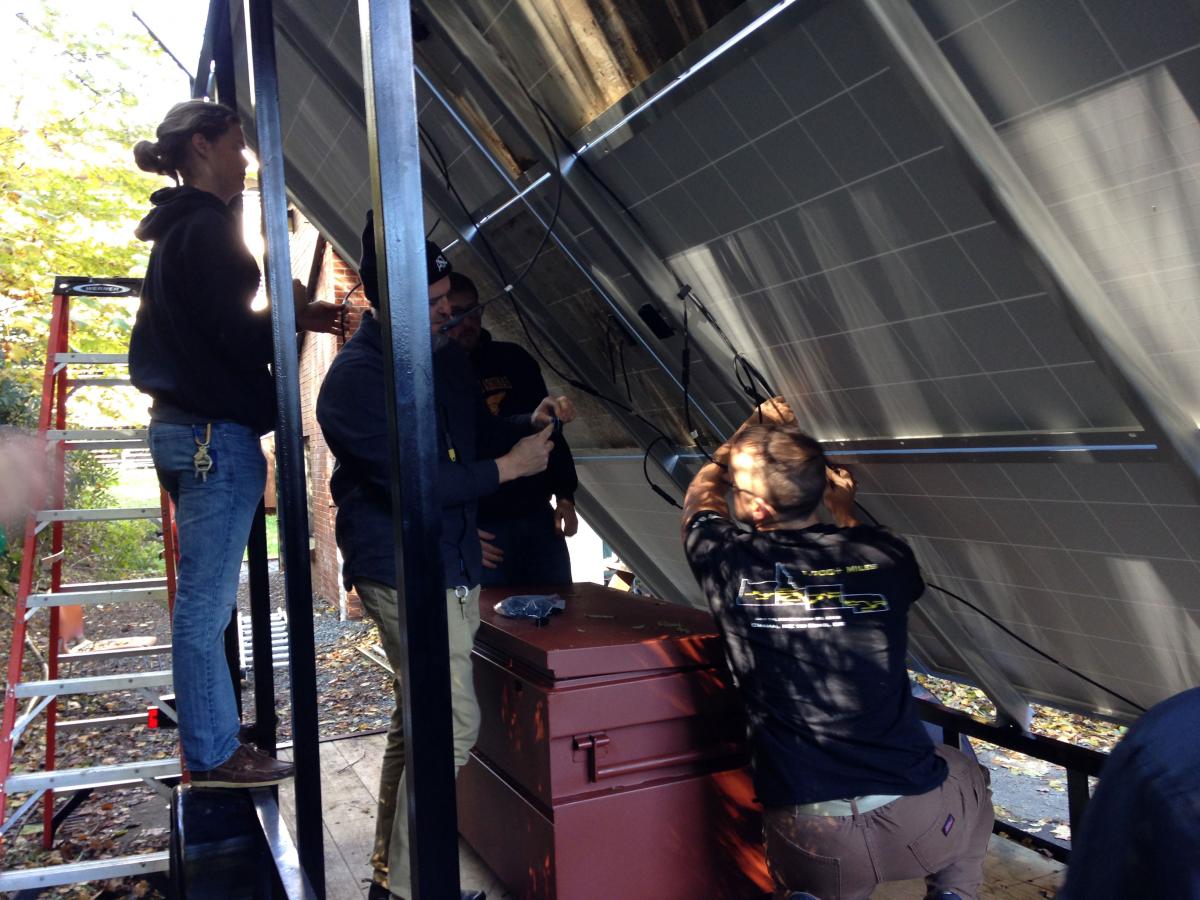 Starting with a detailed load assessment, which involved a thorough look at the power and energy needs of the family's small home, the stand-alone PV system was designed and the components were ordered. The primary energy source is an array of six 315 Watt Jinko PV modules totalling 1.9 kilowatts (kW) of power. The array is mounted to Ironridge rails on a custom steel-frame structure that Cameron fabricated on the trailer. A Midnite Classic 200 MPPT charge controller optimizes solar power and regulates battery charging. Energy storage is provided by a state-of-the-art Lithium Iron Phosphate (LiFEPO4) battery from RELiON via local distributor, Nathan's Batteries. The 48V, 200 Ah battery stores about 10 kilowatt-hours (kWh) of energy and powers a Magnum 4448 inverter which provides 120VAC electricity for the loads. The inverter/charger, charge controller and other electrical components were ordered from the AltE Store as a pre-wired unit and are housed in a large repurposed metal cabinet found in Appstate surplus.
The PVII students enjoyed the opportunity to build a complete system for a real-world application and were excited to learn that we successfully commissioned the system in early January 2019. The system is working well, powering LED lights, a refrigerator, fan, mixer and small electric water heater. This is the time of year when solar energy is at its lowest and bad weather can string on for days so we will keep a close eye on system performance but so far, so good.. Our experience with these LiFEPO4 batteries from RELiON (see Betty's Biscuits news story) shows that they do not mind operating a partial state-of-charge (SOC), will give you all of their stored energy, and operate at 99% efficiency. In contrast, lead-acid batteries can be damaged by lingering at a partial SOC, will only allow a depth-of-discharge of 50% to 80%, and operate at efficiencies of 80% to 85%. If the RELiON battery does become depleted and the PV array cannot successfully recover the system, a small backup generator is on-hand to help recharge the battery if needed.
It was a real joy for Summerville to collaborate with Van Dyke on this project, who partners with his wife, Rachael Van Dyke to do their creative practice and research called The Future People. Rachael and Cameron's solar-powered tiny homestead is a great example of creative and sustainable design and technology at work. These collaborative projects are an inspiration for our students as they embark on their own journey into the world of implementing sustainable and appropriate technological solutions.
https://www.magnum-dimensions.com/