The NEXUS research team has received a North Carolina Department of Agriculture Bioenergy Research Initiative grant for $76,396. This two-year project titled, Promoting Integrated On-farm Bioenergy Technologies, builds upon previous work around the synergy between anaerobic digestion and biochar technologies, and the potential for improved soil quality using biochar combined with anaerobic digestate on Appalachia soils by demonstrating this technology on three cooperating farms.
This funding continues the NEXUS Project's overarching goal: Integrated sustainable energy for enhancing farm productivity and will start on March 2022 and end on Feb. 2024. The team includes Drs. Jeremy Ferrell, and Ok-Youn Yu, Hei-Young Kim (Energy Center), Kevin Gamble and several graduate and undergraduate students. The team has received over $700,000 in research funding since 2014.
Read more about the NEXUS Project.
Read more about the North Carolina Department of Agriculture and Consumer Services awards for research and development related to bioenergy and new crops.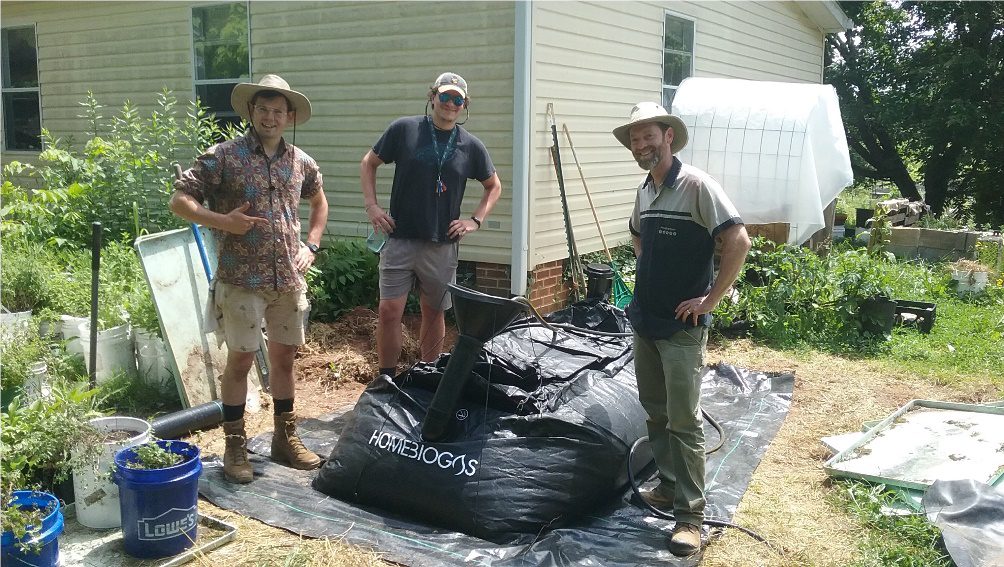 Farmer Jamen Toy (l) of Small Axe Farms and installation team, graduate student Nicolai Solomon (c) and Dr. Jeremy Ferrell (r), with installed Homebiogas unit.