Friday, September 18th, Building Science students participated in Park(ing) Day, an international event that encourages participants to transform parking spaces into temporary public places.
There were installations scattered across campus and the town that were created by locals and students of different departments, but notably two groups of IDEXlab students created temporary outdoor classrooms out of mostly reused materials.
Integrative Design Experience Laboratory, IDEXlab, is an alternative learning experience for building science students.
IDEXlab lasts a full academic year and offers an alternate curriculum focused on design and building projects instead of traditional lecture classes, according to the building science website.
The classrooms were located in the parking lots in front of Broyhill Music Center and Peacock Hall.
IDEXlab Director Jason Miller said that goal was to transform an ordinary parking space into a temporary public place and allow the students to practice prefabricated or repetitive design that can be reused at IDEXlab's facility.
To read the full article, visit the Appalachian online at http://theappalachianonline.com/2015/09/24/idexlab-builds-outdoor-classrooms-parking-day/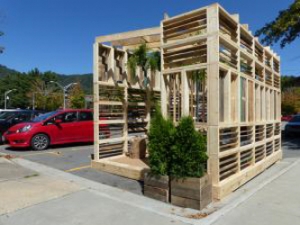 Tags: