Students from Appalachian State University placed first in Transportation at the 2015 Eastern Region TEECA Conference this week in Virginia Beach. TEECA is the Technology and Engineering Education Collegiate Association. Overall, seven students attended the conference. All, but one, are planning to teach technology and engineering education classes as future careers.
The transportation competition focuses on solving a problem related to some aspect of transportation. Grading is based on solution to the problem (this year was accuracy), documentation, testing and STEM connections.
Below is a list of the participants:
Elvie Sumner, Freshman
Brandon Wilkins, Freshman
McLaurin Taylor, senior
Clay Nelson, senior
Will Miner, senior
Joe Gannon, senior
Alex Wheaton, junior
Transportation team members include: Will Miner, Clay Nelson, McLaurin Taylor, Brandon Wilkins and Elvie Sumner.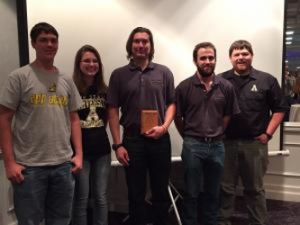 Tags: