BOONE—An agreement between Wilkes Community College and Appalachian State University opens up a seamless pathway for students interested in earning an architectural technology and design degree from Appalachian.
The agreement was signed by Dr. Darrell Kruger, provost and executive vice chancellor at Appalachian, and Dr. John Hauser, vice president of industrial and workforce development at Wilkes Community College.
"Wilkes County is a significant feeder of transfer students to Appalachian," Kruger said. "This agreement is important to both of our institutions, but probably most important to the students as it provides access to an affordable degree and a path in which their degree can be completed in a timely manner."
With the agreement with Appalachian, public school students in Wilkes County interested in architectural technology now have a seamless path from high school graduation to admission and graduation from Wilkes and Appalachian, according to Hauser.
"With this agreement, students will know exactly what courses will transfer to Appalachian, which is a similar process we have for our high school students and the Career and College Promise programs," he said. "We are excited about opportunity to create a seamless transition from high school to WCC to Appalachian. Wilkes, Ashe and Alleghany counties are ripe for this type of program and we are looking forward to continuing our rich tradition and strong collaborative partnership with ASU and hope to be adding more agreements in the near future."
Under the agreement, called a bi-lateral articulation agreement, students from Wilkes who earn a two-year Associate in Applied Science degree in architectural technology with a grade of C or better will receive 52 transfer credit hours towards the 122-hour degree requirement for the Bachelor of Science degree in architectural technology and design at Appalachian.
"This is a very exciting day, not only because we are providing access to more college students, but it is another way for us to further strengthen our relationship with Wilkes Community College," said Jane Rex, director of Appalachian's Office of Transfer Services.
Wilkes Community College is one of the top five community colleges in the state from which students transfer to Appalachian. In addition to Wilkes, the community college serves Ashe and Alleghany counties.
For additional information about Appalachian's degree in architectural technology and design, visit http://www.appstate.edu/academics/majors/id/building-sciences-architectu.... For information about degree requirements for Wilkes Community College transfers, visit http://admissions.appstate.edu or http://transferservices.appstate.edu.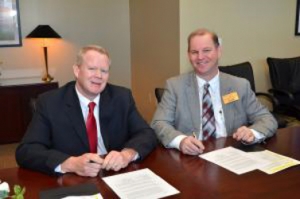 Tags: