Solar Operations Solutions (Solar-Ops), in collaboration with Appalachian State University's Department of Sustainable Technology & the Built Environment and the Office of Sustainability, conducted a demonstration installation of an Electric Vehicle Charger (EVC) monitoring system on the East side of campus.
This system, branded under a new product line name, myEVC, will allow the University to monitor the EV charging stations located in the Legends parking lot for both usage statistics and charger outages. A team of Solar-Ops employees and App State alumni performed the installation in August 2022.
An intelligent monitoring system, myEVC allows the University to ensure the charging stations are available for student and faculty use around the clock, and to understand how the charging stations are used to inform future investments in additional charging stations.
"EVC station availability is critical to support electrical vehicle adoption by reducing the concerns new owners often experience due to range anxiety and electrical vehicle charging locations still in short supply", said Brad Micallef, President of Solar-Ops.
The Legends parking lot's EV chargers are covered by a dedicated solar panel array that provides shade and protection from the weather for charging vehicles and directly powers the charging stations as well. myEVC provides the unique capability to provide a complete solution for monitoring both the EV chargers as well as the solar array. This is made possible because myEVC is built on top of Solar-Ops' intelligent platform, myPV IQ, used for monitoring and control of renewable assets.
In addition to the Legend's PV+EVC installation, the myPV IQ platform is also being used to monitor and performance profile ASU's Broyhill wind turbine. Since 2009, the 100kW capacity turbine has been an instantly recognizable part of Boone and the university's image, situated at the highest point on campus and standing at over 150 feet tall. The myPV IQ platform supports ASU's data collection, research, and sustainability goals.
Solar Operations Solutions, LLC is an Operations & Maintenance provider in Cornelius, NC, with 3GW+ of project construction and management. Their myPV® brand for PV and PV+Storage facilities provides turnkey, professional-grade solutions built on experience. myPV® is a registered trademark of Solar Operations Solutions, LLC. This article was contributed by Dylan Brown (App State alumnus).
For more information: https://mypv.pro/mypv-iq.html or sales@myPV.pro.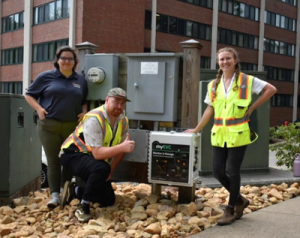 Tags: