An interdepartmental collaboration between Building Sciences (STBE), Interior Design (AD), and Communications has resulted in Appalachian State receiving invitations to the Solar Decathlon Design Challenge finals at the National Renewable Energy Lab in Golden, Colorado from April 20-23.
The U.S. Department of Energy's Solar Decathlon Design Challenge is an internationally recognized competition and is a tremendous amount of work. Our interdisciplinary team of faculty (Chelsea Helms, Jim Rogers, Rob Howard, Arezou Sadoughi, and Andrew Windham) along with industry partners guided students through an intensely collaborative process to produce some great work for the competition and for our project clients who include the Watauga Community Housing Trust.
Additionally, many teams spend the whole academic year developing their projects, and our three teams created this content in basically 2.5 months. Our teams competed in the attached housing division, new housing division, and the retrofit housing division. We were successful in all three of the divisions that we participated in.
Our students continue to shine and keep Appalachian State in a place of prominence on the global stage in the realm of sustainable, zero energy building design.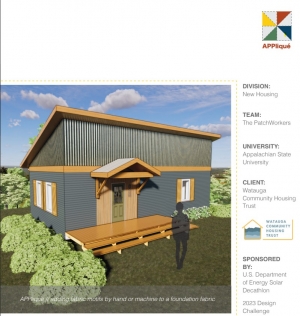 Tags: