The Student Builder's Association (SBA) held a dog house build competition in November, 2022. The Whiting-Turner contracting company graciously donated the building materials for this competition. Dr. Jamie Russell from our STBE department assisted our students on the first day as they built their dog houses alongside the SBA faculty advisor Dr. Reza Foroughi and the representatives of Whiting-Turner (Chad Lewis, a superintendent, and Josh Synakowski, a project engineer). Not only did the students have fun with this project, but they also learned valuable skills managing a building project, although at a small scale.
SBA wants to thank Dr. Russell and Dr. Foroughi for their help and guidance in this rewarding build event! All students who participated in the build event received gift cards for their hard work on such a major project at the end of the semester. We had a total of 4 teams compete for first place, and SBA's faculty advisor Dr. Foroughi and the new SBA club president Kincade Stalun judged the dog houses.
Because these dog houses were so unique and well-built, we had a tie for first place with the team including Daniel Pell, Jakin Arnold, and Lauren Church and the team comprised of Jonas Scott, Esme Hernandez-Alvarez, Ivy Elledge, and Madison Allred. The SBA club plans to auction these off as a fundraising project.
#Appalachianstateuniversity #STBE #Sustainable Technology and Built Environment #building science
Please follow our department's social media channels:
https://www.linkedin.com/in/sustainable-technology-and-built-environment-dept-appalachian-state-university-94496223b/
https://www.facebook.com/profile.php?id=100081289312701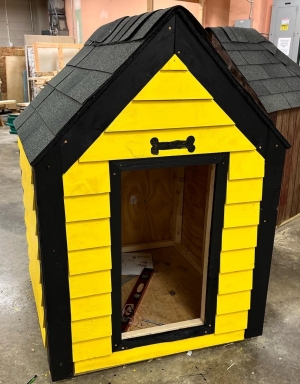 Tags: