The Appalachian State student team competing in the retrofit housing division at the finals for the Solar Decathlon Design Challenge won their division on Sunday April 23, 2023! We are so proud of our three teams that all competed in the finals that weekend, as they have put in lots of dedication, time, and hard work! We are thankful for our faculty mentors - Andrew Windham, Arezou Sadoughi, Jim Rogers, Rob Howard, and Chelsea Helms from Applied Design!
The retrofit housing team included Casey Coughlin (SR), Charis Hatcher (SR), Denise Renteria (SR), Elijah Johnson (SR), Evan Hutchison (SO), Ethan Bodin (SR), Jakob Gibson (SR), Jonathan Kenzel (SR), Jonas Scott (JR), Jonathan Culpepper (SR), and Lillie Bell (SR)!
The trophy is currently being housed in the STBE front office where it will join our past wins from this competition! We look forward to competing in the design challenge again in the future, as well as potentially the build challenge!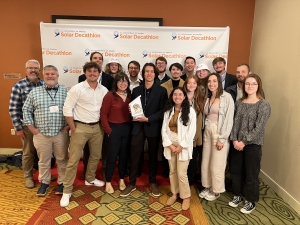 Tags: