One of our Sustainable Technology majors, Grace Waugh, was invited, along with five other Appalachian State University students as the college's delegation, and attended the 2022 United Nations Framework Convention on Climate Change Conference of the Parties (COP27). This significant meeting was held in Sharm El-Sheikh, Egypt on 20 November 2022.
According to Grace, she learned about "global sustainability efforts as well as how to interact with people from around the world on the topic of climate change and our response to it. It was fascinating to observe the variety of technologies, methods, and messages countries and organizations were sharing in their side events and pavilion spaces, as well as to get a glimpse of the complex dynamics and interests surrounding party relations and negotiations." Grace states she gained an enhanced "understanding of the myriad of perspectives related to climate change. Climate change is a global issue that requires a global response."
In summary, the Parties agreed to a historic loss and damage fund at COP27 to support developing countries that are particularly vulnerable to the adverse effects of climate change; they also agreed to retain the existing Paris Agreement and to keep the 1.5°C goal for global temperature rise.
Grace Waugh, Appalachian State University, class of 2023
https://cop27.eg/#/news/259/Historic%20Climate%20Deal%20Sealed%20a
#sustainable technology #Appstate #AppalachianStateUniversity #COP27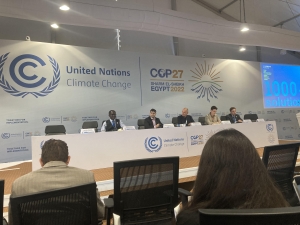 Tags: