On October 25, 2022, seven Appalachian State University student teams enrolled in the Architecture Studio III course competed in the 2022 NCMCA Sigmon Memorial Scholarship Masonry Design Competition held in Katherine Harper Hall. The student teams designed high-performance masonry building façades as part of the studio project advised by Professor Qingqing Sun in the Department of Sustainable Technology & the Built Environment. The first place winning team, comprised of students Chaney Lowe, Fin Fifield, and James Zody, presented their project "NCMCA Art Building/Technical Masonry," which earned a semester's in-state tuition divided among the team members. Runner-up teams received a selection of quality masonry tools.
Sponsored by the North Carolina Masonry Contractors Association (NCMCA), this scholarship competition event affords Building Science students enrolled in TEC 4738 Architectural Design Studio III (taught by Dr. Qingqing Sun) an opportunity to design an innovative building storefront using masonry products, means, and methods. The scholarship is primarily funded by the annual NCMCA fall golf tournament and is named in memory of brothers David and Dwayne Sigmon and Dwayne's son Randy.
NCMCA Executive Vice President Ryan Shaver, NCMCA Past President Kent Huntley, Associate Dean of the College of Fine and Applied Arts and architect D. Jason Miller, and Adjunct Instructor and architect David Conklin all served as judges for the competition. These industry experts noted the creativity and imagination shown in the various design proposals, while also pointing out that the challenge of designing well with masonry lies in the buildability of the assembly. Congratulations to the team!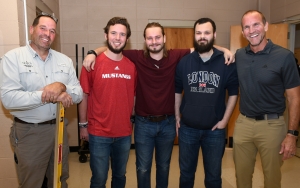 Tags: