Community outreach and education is critical to us in Sustainable Technology and the Built Environment and for the Appalachian Energy Center. On October 28th, the Appalachian Energy Center (AEC) in partnership with STBE, GES, and the Office of Sustainability (OOS)hosted the Hardin Park 8th grade for a Clean Energy Field Trip day here on our main Appalachian State University campus. This is the second year AEC has hosted this event. Over 100 8th graders arrived in three buses and spent the day with our faculty, staff and students learning about clean energy technologies.
GES Lecturer and Outreach Coordinator Marta Toran led a module demonstrating how solar PV technology works at the atomic level along with undergraduate students: Cater Keoleian (Environmental Science), Rachel Harris (Environmental Science), Shams Ahmed (Geology), Sierra Sarver (SD), and Matt Kasberg (Environmental Science). STBE faculty Landon Pennington led a module discussing solar PV energy and electric vehicle charging.
STBE faculty Sohad Abu-Elzait and Ram Poudel led a module on wind power along with STBE graduate students Patrick Kelly and Robert Conolly. OOS staff Lanie Karstrom and Jim Dees led a solar thermal energy module along with undergraduate students Caden Rhoades (Secondary Education), Katelyn McHale (Communication Science), and Bella Carpenter (Sustainable Development).
The Appalachian Energy Center hosted and coordinated the event. The event planning group included Amy Atkins (Hardin Park 8th grade science teacher), Landon Pennington (STBE), Jamie Russell (AEC and STBE) and Marta Toran (GES). The mission of the Appalachian Energy Center is to conduct applied research and to provide services and education in support of the development and deployment of clean energy technologies, policies, and economics. (https://energy.appstate.edu/)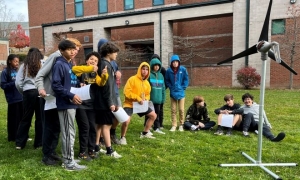 Tags: