Atlanta native Ryan Gillespie earned the top spot and $1,000 at the 2017 Big IDEA Competition for his made-in-America electric bike idea.
The event, held April 20, 2017 on the campus of Appalachian State University is hosted by the Transportation Insight Center for Entrepreneurship (TICFE) in the Walker College of Business. Ten innovative students, pre-selected from a pool of applicants, pitched their best business ideas for a chance to win prize money and boasting rights.
Gillespie, a senior majoring in appropriate technology, wants to produce solar powered electric bicycles made in America out of responsibly sourced materials, such as hemp and bamboo.
"This product represents an evolution in electric bike design that started in an App State classroom in 2015," said Gillespie. He plans to build a frame this summer and compete it in a solar bike challenge in Europe. Ryan credits his Sustainable Transportation class, Electric Bicycle class, and research projects for his success.
He has partnered with Appalachian's Office of Student Research, Office of Sustainability, the Clinton Foundation, the Light Electric Vehicle Association, and the TICFE Student Venture Fund and the TICFE Fast Track program on the light electric vehicle research and development.
The Department of Sustainable Technology & the Built Environment offers courses in Sustainable Transportation, E-Bike Technology, and solar car racing. If interested, contact Brian Raichle raichlebw@appstate.edu.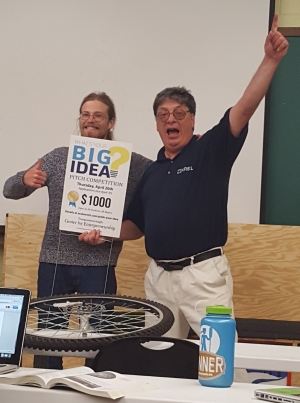 Tags: