The Building Science program had individual students and student teams place in the 2015 Associated Schools of Construction Region 2 Competition. Led by Prof. John Clark, students travelled to Greensboro to compete against other construction-based programs in the southeast region. Winners were announced at a ceremony October 30, 2015. The winners from Appalachian State were:
2nd Place in the Design/Build Team Competition - Daniel Boney, Jarred Blanton, Jacob Houston, Hunter Smith, Kristen Clarke, Kiley Blades
Winners of the Individual Shadow Competition - Lee Urbina and Trey Gibson
Appalachian State is grateful to Brian McWhirter and TRUE Homes for sponsoring the students' travel and other competition needs.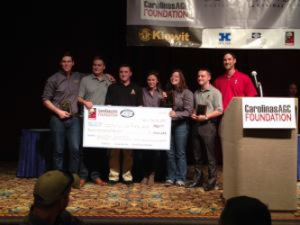 Tags: